Create The Perfect Cover Letter In Just a Few Minutes
High quality templates and designs for any job application
Dozens of tips to help you create a quality cover letter.
Print and export your cover letter to PDF or MS Word in minutes
Get the job of your dreams today!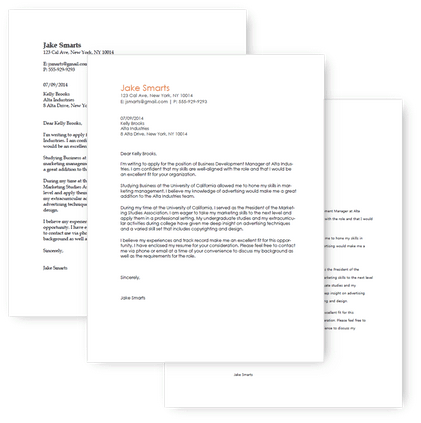 1. Input your educational and career history
2. Select a professional theme
3. Export and start applying for jobs!
Did you know that having even a single mistake on your cover letter can cost you the job of your dreams?
Recent Reviews
"I am 43 years old and was in the process of a major career shift. I really had no idea where to start, but your cover letter builder made it much easier. Thank you so much! " -Pam S.
» Read more reviews
"Seeking a new job is really hard, but your tool made it that much easier. The step by step interface was incredibly simple. Thanks again!\" -Jack K.
» Read more reviews
How to Create a Great Cover Letter
A cover letter is the best way to introduce yourself to a potential employer. It tells them a little bit about yourself, your background, and why you are interested in the position. A great cover letter is going to help you get your foot in the door and give you the best chance at getting a great position with any top company. There are many tools and resources you can use to help you create the best cover letter for advancing your career.
To create a cover letter to go along with your job application, it is helpful to have the right tools at your disposal. If you are very confident in your word processing abilities, you can use a program to create your own organized and professional cover letter. However, if you feel like you need some help creating a good outline, use cover letter templates. These templates can be opened in your word processing program, and then you can plug your information directly into the document. A template will have a neat, professional layout already in place for you. This way, you won't need to worry about choosing a font or properly formatting the document.
The easiest way to create a great cover letter is to use an online cover letter writer. These specialized webpages will let you enter your information into pre-selected information boxes. When you are finished plugging in your contact information and the body of the letter, the website will then create your completed cover letter. You can then save it to your computer's hard drive or print it out immediately to include with your employment application.
Top Cover Letter Tips
Your cover letter should always be accurate and professional. Never submit your cover letter without giving it a second look. Check for grammar and spelling errors and make sure you've included all the right contact information at the top of your letter. You don't want to miss out on a job opportunity because you accidentally missed a digit in your phone number or spelled your email address wrong!
Another good tip for cover letters is to highlight your skills with carefully selected keywords. These words will jump out at the prospective employer and tell them exactly what your strengths are. Use words that are easily understood and simple, like organized, experienced, and professional. Keep it simple so your cover letter will be easy to read and understand. Many hiring managers are busy and have a lot to go through, so they'll appreciate a short and sweet cover letter. Try to keep the whole thing to one page.
The right cover letter will improve your chances of getting noticed at a prestigious company. You can stand out from the other applicants if you use the right formatting and keywords. Using the right tools and tips will help you get the position you are truly qualified for. Whether you are a teacher, an accountant, or a recent graduate looking for anything, the right cover letter will get you started.